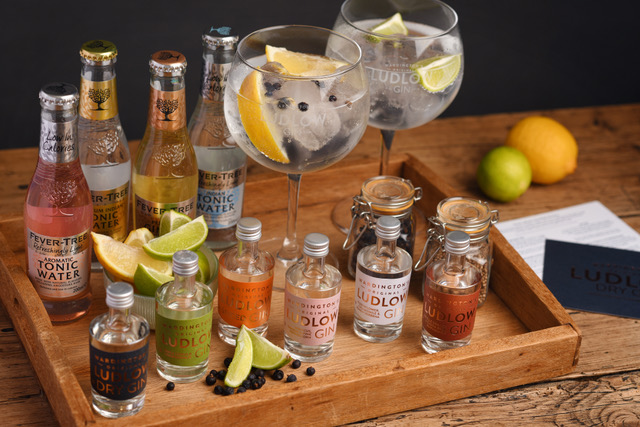 View all vouchers
Ludlow Gin Tasting for Two
Gin experiences make the perfect gift for the Gin lover in your life. We have teamed up with Ludlow Gin, to bring an exclusive Gin tasting experience to The Green Dragon Hotel.
Included is a choice of 4 tasting size gins (5oml) tasting notes, a range of complimentary Fever-Tree tonics and of course the all-important garnishes to compliment.
Choose to enjoy this experience at The Garrick Lounge or The Offa Bar (opening times vary).
No.1 Ludlow Dry  – their signature gin, classic and timeless; evoking the gentle scent of the Shropshire hillsides.
No.2 Triple Citrus and Pomegranate – strong lingering notes of lemon, orange and cardamom combined with refreshing pink grapefruit.
No.3 Spiced – a taste of the Orient: delicate, exotic spices, fragrant and evocative, just a touch of sweetness.
No.4 Hibiscus, Orange & Pink Peppercorn – a seriously smooth and intense spirit, carefully balanced, colourful, warming, delicately floral, just a little heat.
No.5 Elderflower, Chamomile and Lemon Verbena – a light and refreshing bouquet that conjures up spring meadows and rolling hillsides of the Welsh Marches
No.6 Seville Orange & Cassia Bark Marmalade – the finest juniper, coriander, angelica root and orris are harmonised with strong citrus notes of Seville orange, with a delicate hint of cassia, creating a truly premium gin.
£40.00 for two guests to share.
**Please note the choices of gins may change to match the seasons.