Wine List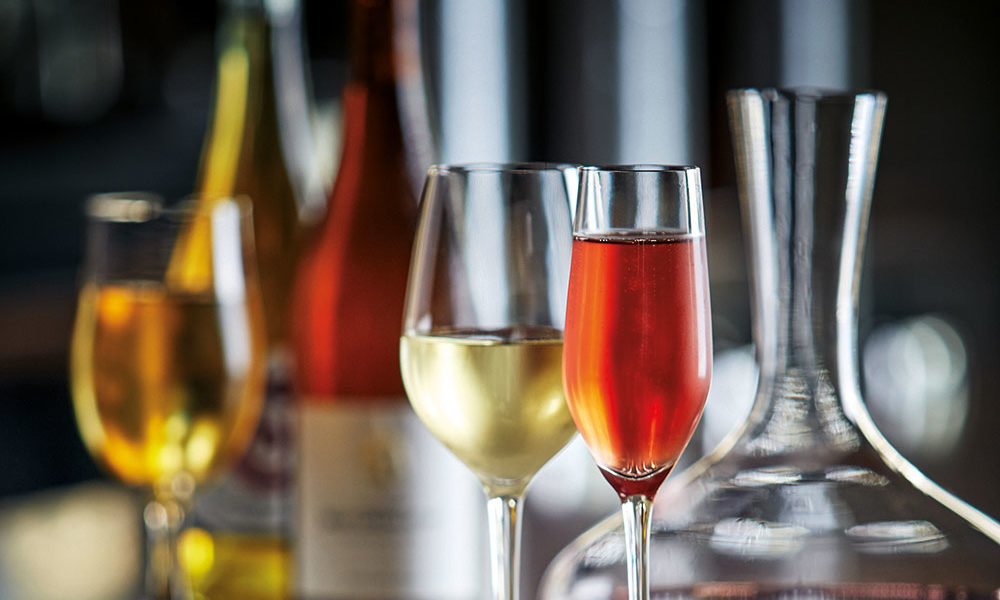 Return to
Tanners Wine Merchants
Family-owned since 1842, Tanners of Shrewsbury has carved itself a formidable reputation within the wine industry winning many national awards, most recently the title of 'Decanter Magazine Best National Wine Shops of the Year 2018' as well as 'Outstanding Retailer of the Year 2016'.
Tanners is family-owned, family-run and resolutely independent. Sixty percent of sales are to quality-minded restaurants, hotels and licensed premises with the remainder to private and corporate clients throughout the United Kingdom.
In 1978 Tanners acquired the Hereford wine merchants, William Pulling & Co. As wine merchants and distillers in Hereford, Pulling's dated from 1813 and has been in the present premises in St. Peter's Square since 1917.
Rose Wine
Amanti del Vino Pinot Grigio Rosato, Veneto 2019
Soft, easy Pinot Grigio Rosé with juicy strawberry fruit
125ml
£4.50
175ml
£5.70
250ml
£7.50
bottle
£22.00
£
Bagordi Rose
Packed full of red fruit character, strawberries, raspberries and red currants
125ml
£5.80
175ml
£7.35
250ml
£9.90
bottle
£22.00
No 1 Rosé, Coteaux d'Aix-en-Provence, Domaine Pey Blanc 2020
An attractive nose with white flowers and hints of exotic fruits leads to an elegant palate with red fruits and citrus flavours
bottle
£37.00
bottle magnum
£77.00
Dessert Wines
Monbazillac, Château Le Fagé 2017
Luscious yet delicate dessert wine with great intensity
100ml
£7.00
half bottle
£25.00
Muscat de St-Jean-de-Minervois, Tailhades
Quite light, grapey, deliciously sweet, with a kick of lemony freshness
El Aziz, Vendemmia Tardiva, Sicilia, Fina
Orange-like and spicy, well balanced between sweetness and acidity
White Wine
Pato Torrente Sauvignon Blanc, Valle Central 2019
Dry full and refreshing, with clean tropical fruit and zesty citrus-like acidity
125ml
£5.50
175ml
£6.70
250ml
£8.25
bottle
£24.00
Preciso Pinot Grigio, Terre Siciliane 2019 Vegan
A fresh and easy pinot grigio with juicy fruit lemony hints and attractive style
125ml
£5.50
175ml
£6.70
250ml
£8.50
bottle
£24.00
La Cabane Reserve Marsanne Viognier Viognire, Pays d'Oc 2019
A fresh and aromatic white with juicy fruit, suitable for all occasions
125ml
£5.70
175ml
£6.90
250ml
£8.60
bottle
£26.00
Picpoul de Pinet, Domaine des Lauriers 2020
Try this instead of your chablis or sauvignon. Fresh lean, steely mineral bone dry. The perfect match for seafood
125ml
£5.95
175ml
£7.25
250ml
£9.70
bottle
£29.00
Baboon Rock Unwooded Chardonnay, Franschhoek, La Petite Ferme 2020
Honey and lime aromas lead to pear flavours with mineral undertones
125ml
£6.00
175ml
£8.45
250ml
£11.30
bottle
£34.00
Bagordi Blanco, Rioja 2019 (organic)
A lovely, clean, fresh character with ripe citrus notes with floral accents
Nika Tiki Sauvignon Blanc 2021
Tropical fruit, grassy herbaceous character with ripe citrusy freshness
Macon-Chardonnay, Mallory & Benjamin Talmord 2019 Vegan
Superb value Macon that has a rich citrusy fruit and creamy texture
Petit Chablis, Les Manants, Famille Brocard 2019 Vegan
Great honeyed fruit character with a succulent minerality
Saint-Véran, Christian Collovray et Jean-Luc Terrier 2018
Delicious, full-flavoured wine with smoky, rich, almost New World fruit
Sancerre, Cuvee Marnes & Cailottes, Jean-Max Roger 2019, Vegan
Gruit purity, delicate elderflower aromas and a concentrated palate
Meursault Vielles Vgnes Vincent Giradin 2018
Clean fresh and full of flavour, citrus, ripe apple and a hint of toasted hazelnut
Red Wine
Pato Torrente Merlot, Valle Central 2019 Vegan
Cherry and ripe, red berry fruits intertwine with pepper and a touch of coffee bean
125ml
£5.50
175ml
£6.70
250ml
£8.25
bottle
£24.00
Las Pampas Shiraz/Malbec, Mendoza 2019
Spicy plum fruit and soft tannins. A well-balanced blend
125ml
£5.50
175ml
£6.70
250ml
£8.50
bottle
£24.00
Martinfort Carignan, Sélection Vieilles Vignes, Vin de France 2020
Round, full and soft, with chunky fruit and great concentration from the old vines
125ml
£5.75
175ml
£6.90
250ml
£8.60
bottle
£26.00
Rioja Vega Crianza, Rioja 2017
Smooth, soft, richly-fruited with spice and vanilla from 12 months in oak
125ml
£5.80
175ml
£7.80
250ml
£10.10
bottle
£31.00
bottle magnum
£59.50
Chianti, Duca di Saragnano 2019
Soft and flavoursome Chianti with good depth, red fruit and easy tannins
125ml
£6.00
175ml
£7.80
250ml
£10.20
bottle
£31.00
Faugères, Les Jardins, Domaine Saint Antonin 2019 Vegan / Organic
Liquorice and herb flavours with plenty of soft fruit and ripe tannins balances with lovely freshness
Piedra Negra Malbec, Alta Coleccion, Mendoza, Lurton 2019 Organic
Supple wine with soft tannins. Blackberry fruit, spice and long finish.
Château Cissac, Haut-Medoc 2017
Textbook Médoc with juicy, chunky blackcurrant fruit and ripe tannins
Santenay, Vieilles Vignes, Vincent Girardin 2016
Rich with dense black cherries, ripe tannins and good freshness.
Châteauneuf-du-Pape, Télégramme, Famille Brunier 2018
Lovely soft fruit with spice, plums, herbs and a touch of leather behind.
Sparkling & Champagne
Amori Prosecco, Spumante Extra Dry
Aromas of pears, apples and peaches followed by more of the same on the palate
Ita Prosecco Rosé, Extra Dry
A gently strawberry-scented Rosé with bags of fruit flavours and aromas
Ayala Brut Majeur, Champagne
Notably dry, fresh and mineral, great apéritif or sea-food match.
Fairmile Vineyard, Classic Cuvée, English Quality Sparkling Wine (Vegan)
Juicy and fresh wine, floral and elegant nose with yellow and red fruit, creamy palate with appley freshness and good length
Ashling Park Estate, Brut English Quality Sparkling Wine (Vegan)
Properly Champagne-like English sparkling wine, floral on the nose with a well-balanced palate showing plenty of delicious stone fruit flavours
Ayala Rosé Majeur, Brut Champagne
Tremendously elegant with strawberry, raspberry and blackcurrant flavours.
Pol Roger Réserve, Brut Champagne
Elegant with aromas of brioche and apples and real poise on the palate
Pol Roger Vintage, Brut Champagne 2013
This is rich and velvety, with excellent depth of fruit, citrus and yeasty flavours